'Beetlejuice 2' Reportedly Confirmed, Tim Burton Says Sequel Approved by Warner Bros.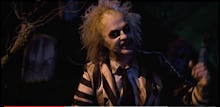 Update: March 11, 2016: A representative for Tim Burton has told MTV News that a Beetlejuice sequel is not in development. Moreover, the director never provided a quote or statement to Showbiz Spy, according to MTV News.
Story follows: 
We've asked for a sequel more times than his name was called out in the original film — and it seems Tim Burton has finally heard our calls. This is according to Showbiz Spy, who reported that the director has confirmed a sequel to the 1988 film Beetlejuice is in the works and said former leads Winona Ryder and Michael Keaton are set to reprise their roles. 
Read more: Tim Burton's Next Film Looks So ... Normal
Speaking with Showbiz Spy, Burton purportedly said the Beetlejuice sequel has already been approved by Warner Bros. "We have talked with the cast members we wanted for the film and they are all on board, this includes both Winona and Michael," Burton said. "We have the script in hand everything is in place all we need to do now is get ready to start filming."
Ryder had previously talked about a Beetlejuice sequel in an August 2015 interview on Late Night with Seth Meyers, in which the actress said Burton had already talked about the film with members of the press while promoting his 2014 film Big Eyes. 
As of now, it's still unclear if other members of the original cast — namely, Geena Davis, Alec Baldwin and Catherine O'Hara — will also return for the sequel, and when production would start. Furthermore, Warner Bros. has yet to release an official statement regarding Beetlejuice 2.