Mariska Hargitay and Chris Meloni of 'Law and Order: SVU' Reunite for Selfie, Fans Freak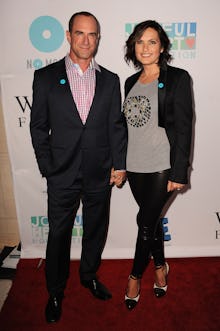 Mariska Hargitay and Chris Meloni, aka Detectives Olivia Benson and Elliot Stabler, from the TV series Law and Order: Special Victims Unit, reunited for an epic Twitter selfie in New York City and the internet is having a major burst of feelings.
"Meeting peeps NYC," Meloni wrote in the nostalgic selfie of him and Hargitay Friday. Tagging it #HanginWithAFriend. Meloni was sporting a seriously boss beard. 
"I think I stopped breathing there for a minute IDK if I started breathing again," one fan wrote. Others can't seem to translate their emotions to words and are opting for GIFs of Oprah crying and Kermit seizing to adequately express themselves:
Hargitay and Meloni were a power team of detectives adored by the show's many followers, though Meloni left the show in 2011 to pursue other acting jobs. "For the past 12 years Chris Meloni has been my partner and friend, both on screen and off," Hargitay said at the time. 
"He inspired me every day with his integrity, his extraordinary talent and his commitment to the truth. I love him deeply and will miss him terribly — I'm so excited to see what he'll do next."