Jessica Alba's Honest Co. Comes Under Fire for Ingredient It Pledged to Avoid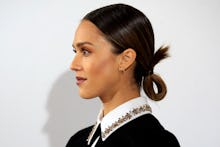 Oops — the Honest Co. might have lied.
The line of eco-friendly body care and cleaning products, co-founded by Jessica Alba, is on the defensive after the Wall Street Journal released a report Thursday claiming to have confirmed the presence of sodium lauryl sulfate (SLS) in the brand's laundry detergent, an ingredient the company had pledged to avoid.
Though the Journal's report notes that the presence of SLS was confirmed by two independent lab studies, a screenshot taken from their website shows that Honest Co. avows to consumers that their product is "Honestly Made Without: ... SLS/SLES (sodium lauryl/laureth sulfates)"
Reps for THC disputed the claim to People magazine, saying, "To set the record straight, we use Sodium Coco Sulfate (SCS) in our brand's laundry detergent because it is a gentler alternative that is less irritating and safer to use."
The brand, valued at $1.7 billion, was built on the promise that the ingredients in its products are gentler, safer and more "honest" than other commercially available products — but based on the findings of those studies, Honest may be built on a billion-dollar lie.
Get the five stories that will challenge you to rethink the world by signing up for MicCheck Daily.