'10 Cloverfield Lane' Reviews: Critics Praise "Blood Relative" to Original 'Cloverfield'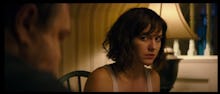 It feels like 10 Cloverfield Lane popped out of nowhere — much like the monsters in the original Cloverfield — and in retrospect it appears it was a smart move by producer J.J. Abrams to keep the production largely under wraps. Calling it a "blood relative" to Cloverfield, 10 Cloverfield Lane has hit theaters, and fans should note: The direct narrative connection to the original film is distant. This film has a personality of its own.
The good news is that this tonal shift has been widely praised by critics, who not only see the film as an excellent thriller, but a game-changing concept for the dull, but oft-repeated formula of reboots and spinoffs for movie franchises. 
Read more: Here Are the Biggest Movies Coming Out in Theaters March 2016 You Don't Want to Miss
Without spoiling any of the intricate plot details, 10 Cloverfield Lane has been hailed for making the best use of its setting — the film primarily takes place in an underground bunker. Yet, this setting creates a suffocating tension.
"At one point, this movie had me so on edge that I had a fleeting impulse to run out of the theater," Mick LaSalle wrote for the San Francisco Chronicle. "It might be weird to say that and mean it as a compliment, but good thrillers work that way sometimes." 
In this closeted, bunker setting, Mary Elizabeth Winstead's performance was favorably compared to Brie Larson's Oscar-winning performance in Room. Similarly, she's put in a situation with no means of escape — and no knowledge of why it isn't safe to go outside. Essentially, she's a prisoner. 
"It's Room meets Deathtrap meets Night of the Living Dead meets War of the Worlds," Owen Gleiberman wrote for BBC. 
"Watch the arrival of the mighty Winstead, who'd do fine in a Room of her own," Joshua Rothkopf wrote for Time Out. 
However, 10 Cloverfield Lane's biggest impact might be on the industry as a whole. Since it barely has a connection to the original Cloverfield, yet acts as an extension of the franchise, it could spark similar sequels and reboots with a creative edge. Hollywood is widely regarded as a copycat industry.
"[10 Cloverfield Lane] could be the first exhibit in a new approach to franchise- and universe-making that lets stranger, less conventional stories fit in under the big tent that dominates mainstream studio filmmaking," Kevin Lincoln wrote for Vulture. "It would also reaffirm Abrams's place as one of the savviest creative minds in Hollywood, always one step ahead of industry trends and packaging. While it's unlikely that 10 Cloverfield Lane alone will determine that future, call it the latest case study in branding and selling the modern movie." 
Ahead of your trip to the theaters, check out the tense (yet, for anybody concerned with spoilers, quite vague) trailer for 10 Cloverfield Lane below.