A Reporter Was Slut Shamed After a Man Pulled Her Underwear Down on the Street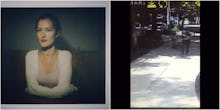 The internet is terrible to women. Intellectually, we all know this to be true. Yet sometimes, it's still tough to fathom — particularly if the woman in question is a sexual assault survivor who posted surveillance footage of her assault on Twitter.
That's what happened to Andrea Noel, a freelance journalist based in Mexico City who posted CCTV footage of an on-the-street attack last Tuesday — and was subsequently met with a barrage of despicable victim-blaming and abuse. 
It all started when Noel tweeted footage of the attack on Tuesday, March 8, which also happened to be International Women's Day. In the CCTV footage, Noel is seen walking down the street while an unidentified man creeps up behind her. The man lifts her skirt up, pulls down her underwear and runs away, while Noel is left sprawled in the streets. 
"If anyone recognizes this imbecile, please identify him," Noel wrote in her tweet, in Spanish. "Women should be able to walk safely. #FelizDiaDeLaMujer [translation: Happy Women's Day]." 
For the most part, Noel's tweet garnered an outpouring of support, as well as nearly 4,000 retweets in the span of only a few days. Yet a small number of literal demons felt it was appropriate to blame Noel for the assault, attributing it to, among other things, her blonde hair and the way she was dressed.
Noel retweeted many of the abusive messages after her story went viral:
"What they did you deserve for being a woman, a bitch, a slut that any man can take as he pleases. Next time I hope you are sodomized by a whore." 
"Fucking bitch. It's your fault I got suspended. When I see you I'll not only lift your skirt, I'll kill you. Bitch." 
The top message: "No, it's true, you're trash. Women who walk around in short dresses as you did deserve to be raped or killed by stoning, as stipulated in the scriptures." 
Although Noel has managed to get many of these users suspended from Twitter, that doesn't change the fact that street harassment like the kind Noel experienced is an incredibly insidious issue all over the world. In France, for instance, about 100% of women reported having experienced some form of sexual harassment while using public transportation, while 65% of women in the United States have also experienced catcalling and harassment, according to a 2014 survey from Stop Street Harassment.
In Mexico in particular, sexualized violence is fairly normalized, to the point that in 2010, a United Nations report ranked Mexico number one in the world in sexual violence against women. Although feminist groups have made efforts to combat street sexual harassment, there is no law that prevents it in the country, giving women like Noel little recourse when they are attacked. 
That's clearly why Noel is doing her part to not only help identify her attacker, but also combat the insidious belief that women are somehow responsible for or inviting sexual assault. 
"If a woman is murdered in a swimsuit, the problem is not the swimsuit," she tweeted. "It's the murderer who killed her."
h/t Yahoo News
h