Eric Underwood, Ballet Dancer, Wanted Shoes in His Color — and This Is the Response He Got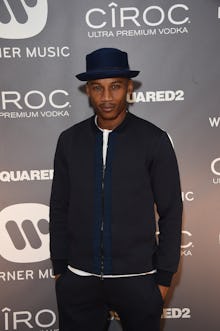 One of the biggest problems facing ballet dancers may be south of their ankles. 
While the ballet world — like the Grammys and the Academy Awards — is facing huge diversity issues, there's actually a very simple problem facing the graceful, black dancers: They can't find shoes in their color. 
Soon, thanks to dance supply company Bloch, black ballet dancers will be able to find ballet shoes in their appropriate skin tones, the BBC reports. 
But the story of getting those to market is much longer than can be shared in an Instagram video. 
In a video that American ballet dancer Eric Underwood posted to his Instagram account last summer, Underwood called on companies to make a more diverse offering for flesh-colored shoes. 
"If you create more than one flesh tone, I'll love you forever!!" Underwood wrote in a plea to ballet shoe companies. 
The video shows him applying makeup to his shoes so they can match the color of his feet. 
"I have to 'pancake' my shoes with makeup before I can go on stage," Underwood told the BBC. "It's a messy process that can take as long as half an hour at a time, and I need to repeat it regularly because the color rubs off during performances."
Underwood is not alone. Another dancer, Brooklyn Mack, told the BBC that he uses acrylic paint on his shoes rather than makeup to avoid slippage, even though it's frustrating that he has to do so in the first place. 
"Not being able to buy shoes is a reminder that you are an anomaly and that you aren't given the same consideration as other dancers," Mack said. 
Historically, the BBC reported, ballet shoes were meant to blend in with the color of dancers' feet to give the illusion that the dancers were floating on air. However, that illusion is not afforded to dancers of color. 
Mack and Misty Copeland made history when they performed the two lead roles in Swan Lake at the Kennedy Center in 2015. However, Mack asserted there's still progress to be made. 
"Do ballet companies today want to be part of the contemporary society we live in?" Mack told the BBC. "If the answer is yes they need to start to look a little more like that society. The idea of uniformity, the need to all look the same, still permeates the ballet world." 
Aside from the practical nature of allowing the dancers to blend in and look ethereal, the flesh-colored shoes — that will soon be available — signify room being made in the ballet world for dancers of many colors. 
Underwood said, "The simple acknowledgment that there's a need for a new flesh tone is groundbreaking in the world of ballet."