#MemeHistory Recaptures Historical Moments With These Hilarious Tweets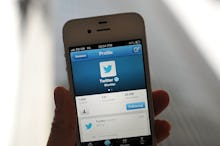 Black Twitter is back at again with the trending topics. Thursday evening Twitter user TylerIAm spawned the hashtag #MemeHistory, according to BuzzFeed. The viral trending topic was created in an effort to "meme-splain history" — or retell historical and biblical events using internet memes, or viral GIFs, videos and photos — according to the user's blog.
But when TylerIAm pointed out that "making Powerpoints would be so great now with all the memes out," Twitter users took him at his word and the brilliant hashtag was created.
Read more: Beyoncé's Super Bowl "Formation" Performance Brought Out the White Tears in These Emails
Before the rise of the internet, learning about historical events consisted of flipping through history books. For many millennials, history lessons could be found searching the internet and reading quick recaps on Wikipedia. But this hashtag shows just how entertaining learning about historical events can be with the help of Twitter and your favorite meme-able image.
Here are some of the best tweets circulating the web: