Sarah Silverman's Adolf Hitler Hates It When You Compare Him to Donald Trump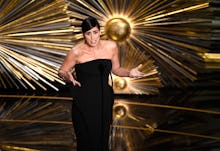 If there were ever a reason to dress up as Adolf Hitler, it's this.
Sarah Silverman strutted onstage in full-on Hitler regalia for Thursday night's episode of Conan, eager to put an end to recent comparisons to an unsavory public figure: presidential hopeful Donald Trump.
"Don't get me wrong Conan, I agree with a lot he says — a lot. Like 90% of what he says I'm like, 'This guy gets it,'" she said, "But I don't like the way he says it — it's crass."
Silverman's Hitler also confirmed that yes, the micropenis rumors are true.
Trump is being likened to the dictator at an ever-increasing rate: From comedian Louis C.K., who blasted the Republican frontrunner for his similarities to the Nazi leader, to the New York Daily News, which ran a front-page headline this week that read, "Trump Is Hitler," the lip service is inescapable.
Silverman (as Hitler) also said she was a little bummed out by the comparisons. "Sometimes I watch him and I'm like, 'Is that how people see me?'" she said. "I have to be honest: Trump, he's starting to make me rethink some of the things I've done."
If only Trump felt the same way.