Will There Ever Be a Season 6 of 'Louie'? Here's What We Know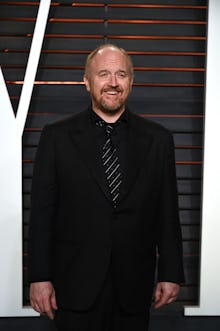 Louie, comedian Louis C.K.'s FX television series, has been on an extended hiatus since last year while C.K. focuses on producing shows for some of his comedian friends — and it's still unclear when or if the show will return for a sixth season, Variety reported earlier this year.
"I don't know," C.K. told reporters in January about Louie's return at a panel for Baskets, comedian Zach Galifianakis' forthcoming FX show (which C.K. is executive producing). "I just don't know. I don't know. I think about it sometimes and I just don't know. It's such an autobiographical thing that I could do a version of Louie when he's 60, if anyone gives a shit. By the time I want to, I might say, 'Hey guys,' and they'll be like, 'Who is this?'"
Read more: Donald Trump Roasted on 'SNL' With "Racists for Trump" Ad
When FX CEO John Landgraf originally announced the hiatus last year, he said it could last anywhere from six months to two years — but the six-month mark passed in January, and Landgraf recently said there's no guarantee it'll return. 
"He certainly hasn't promised me further seasons, so I'd have to say [the show not returning is] a possibility," Landgraf said in January at the Television Critics Association press tour in California, according to TV Line. "We still talk about making more seasons."
C.K. is also producing comedian-actress Pamela Adlon's FX series Better Things, which is set to premier later this year. Adlon appeared in several seasons of Louie as his friend and brief love interest. 
In the meantime, enjoy Louie and Pamela admiring "Bag of Shit" and more bizarre modern art in their incredibly accurate mockery of a modern art gallery: