Deadmau5 Dropped 3 New Tracks, and They're Unlike His Usual Sound — Listen Here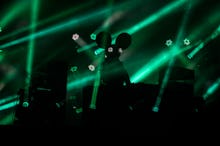 After a brief and digital conversation with Kanye West, Canadian electronic artist Deadmau5 has surprisingly uploaded three new tracks onto SoundCloud over the course of Thursday night and into Friday morning. The not-so-clear names of the tracks are "Name Your Track"; "CthulhuTwerks" and "Yoloswagbae." Each of them are less than two minutes, but are glitchier than what the deep techno producer is known for. 
Read more: Have We Finally Had Enough Of Deadmau5?
The DJ has been on a string of uploads lately, exciting fans about his new album that's coming down the pipeline, Run the Trap reported. On March 6, the DJ uploaded a nine minute-long ambient instrumental to SoundCloud that will probably make an appearance on his new album and during his Ultra Music Festival set, according to YourEDM. 
Although he's currently on his Mau5hax bus tour, Deadmau5 had promised fans a new album that would be released in early 2016, according to Billboard in July. He had been on an hiatus because of studio construction that finally ended in January, according to YourEDM. As evidenced by his recent tracks, he's been taking advantage of the space. 
Source: Soundcloud
Source: Soundcloud
Source: Soundcloud