Watch Caitlyn Jenner Take Down Hillary Clinton — Then Watch Her Praise Trump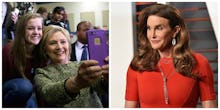 An upcoming episode of Caitlyn Jenner's reality TV series may serve as a sobering but necessary reminder that trans people, like all other Americans, aren't single-issue voters.
In the segment of the clip made available, Jenner reveals that she thinks Republican presidential candidate Donald Trump is better than Democratic candidate Hillary Clinton on women's issues. 
(Reminder: Trump is the man who accused Fox News anchor Megyn Kelly of being on her period because she was supposedly too hard on him while moderating a GOP debate in August.) 
"Um, I'm not a big fan because I think of his macho attitude," Jenner says of Trump in the clip from the forthcoming episode of I Am Cait, to air this Sunday night. 
But what follows is somewhat paradoxical: "I think he would have a hard time with women when he doesn't even realize it — and it doesn't mean he wouldn't be good for women's issues, I think he would be very good for women's issues."
Clinton is not only terrible for women's issues, but pretty much everything else, Jenner emphatically argues in a heated debate with her friends, who appear ostensibly shocked.
"She was a lousy senator." And as for her performance as Secretary of State? According to Jenner, Clinton is single-handedly responsible for political unrest across large swaths of the world.
"Look at all the things that are going on in the Middle East — all because of what she did," Jenner says. 
And then the pièce de résistance in the reality star's tirade against the Democratic frontrunner: "She's a fucking liar." 
That about says it all. 
Watch the snippet here:
Source: E Online