Marvel Studios Is Unveiling a New Plan to Bring Women Into STEM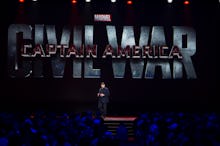 In anticipation of the May 6 release Captain America: Civil War, Marvel Studios has announced a new initiative to increase gender diversity in the ranks of American science, technology, engineering and math (STEM).
The studio will partner with the National Academy of Sciences' Science & Entertainment Exchange and other groups in a program known as "Girls Reforming the Future Challenge." The project will invite young women between the ages of 15-18 and in grades 10-12 to submit a video suggesting an idea they feel could change the world. The scope and complexity of the proposals are up to the individual applicants, USA Today reported.  
Captain America star Elizabeth Olsen extolled the new program in a promotional video. 
"I'm really excited to meet these exceptional young women who have STEM backgrounds and who maybe also want to be part of more of a creative and science-based world," she said in the video. "And Marvel's a perfect place for that." 
According to the event website, when it's all said and done, five finalists will receive a "$500 High Yield Savings account" and will be flown to a red carpet premiere of Captain America: Civil War in California. One winner will be selected to receive a one-week Marvel internship.
Applications will be accepted until 9 p.m. Pacific on March 26, and can be submitted at CaptainAmericaCivilWarChallenge.com.