Queer Teens Are Now the Majority, Goodbye Straight People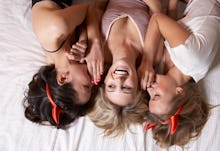 Hide your kids, hide your wife, because Generation Z is dating everybody up in here. 
In a new report from the J. Walter Thompson Innovation Group shared exclusively with Vice, 48% of teens asked to identify on the famous Kinsey scale — which ranges from 0 ("completely heterosexual") to 6 ("completely homosexual") — identified as completely heterosexual. This is a much smaller number than millennials, 65% of whom identify as exclusively straight. 
While 48% of teens identify as straight, over a third of those surveyed selected a number from 1-5, which indicates differing levels of bisexuality. 
But there's a lot more in this survey than just sexuality: 56% of teens said they know someone who goes by a gender-neutral pronoun like "they," "them" or "ze," compared to 43% of those aged 28 to 34 years old. 
Overall, gender just means a lot less to teens. Over a third of teens felt that gender doesn't mean anything when it comes to defining yourself as a person, compared to 23% of millennials age 28 and up.
As if they weren't rejecting the gender binary already, while 54% of millennials like to shop in a gender-specific section of the store, only 44% of teens said they buy clothes specified for their one gender. It's kinda like, to teens, retail clothing stores are just one vast sky of options. 
It actually sounds kinda great. Kudos, teens, for pushing the world into a less rigid, more accepting place.