Ariana Grande Is a Very Different and "Dangerous Woman" on Her Latest Single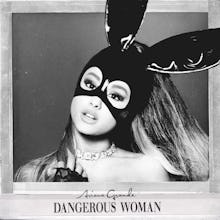 The Ariana Grande you know is usually over-the-moon in love. It's so strong, it's off the scale; it leaves her lost for words and easily swayed by romantic advances against her better judgment. However, Grande's latest single, "Dangerous Woman," released Friday around midnight, paints an entirely different picture. 
For the otherwise samey artist, it's a small revolution and a sign a new artist may be taking shape before our eyes.
"Dangerous Woman" is the lead single and title for Ariana Grande's third album. Bold and divergent, it speaks volumes about where she's headed.
Possessing a hard-edged, almost sinister tone and a booming rock-driven chorus, Grande comes off as cunning and empowered. It contrasts sharply with the looseness of "Problem" and the fast-moving bubblegum pop of "The Way," the two lead singles for her previous albums. It takes her farther and farther from the take-me-back and call-me-smitten material she built her name upon.
She's sure of herself: "Nothing to prove and/ I'm bulletproof and/ I know what I'm doing."
She's embracing the direction of her feelings: "Somethin' bout you/ Makes me wanna do things that I shouldn't." 
The unsparing second verse, where the song has its most lyrical punch, captures the tug-and-pull of being in the moment versus prolonging the feeling: "I just wanna savor/ Save it for later/ The taste of flavor." There's no back-and-forth; she decides she can do both, because she says so.
Grande never says what is making her feel dangerous. But the song survives without having to define that mystery. Instead it defines the terms of her ascension — what she feels about that "something 'bout you" could not be clearer. And that is what matters at the end of the day. In this interaction, Ariana Grande is not looking to please anyone but herself. 
With the exception of the climax being somewhat reminiscent of the high point in "Break Free," "Dangerous Woman" is unlike anything Ariana Grande has released so far. The stylistic divergence is a good look for her. 
Shedding one's former Nickelodeon or Disney persona has proven extraordinarily difficult for many in the past. The way Grande has slyly managed her transformation, album to album, has allowed her fan base to grow along with her, and they've clearly been responding to Grande's newfound powers. Within seven hours of its release, "Dangerous Woman" shot to the top of iTunes singles chart, prompting tear emojis from the star.
Grande is truly "testing her limits" with her new material, as she sings in the song's first verse, and we are all the way here for it. 
If Dangerous Woman leads her to exploring territory that's more Yours Truly and less My Everything, there's no doubt audiences will be left entranced and optimistic over this focused, all-in endeavor.
March 11, 2016, 3:33 p.m.: This post has been updated.