Ronald and Nancy Reagan Ignored the AIDS Crisis and You Know It, Hillary Clinton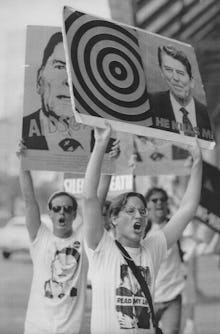 In an interview with MSNBC Friday, 2016 Democratic presidential candidate Hillary Clinton said that Ronald and Nancy Reagan helped start a national conversation about HIV/AIDS. This is not exactly a bald-faced lie, but it is a gross misunderstanding of history and a misrepresentation of the true governmental neglect during the AIDS epidemic that killed millions worldwide. 
Here is her statement: 
People on Facebook and Twitter jumped at the gross inaccuracy right away. 
At 4:24 p.m. Eastern on Friday, Clinton issued this statement on her comments: "While the Reagans were strong advocates for stem cell research and finding a cure for Alzheimer's disease, I misspoke about their record on HIV and AIDS. For that, I'm sorry."
Here's some backstory on Reagan and the AIDS epidemic: The very first appearance of AIDS in the media happened in 1981 in the New York Times in an article called "Rare Cancer Seen in 41 Homosexuals." In a now-infamous press conference in October 1982, Reagan's deputy press secretary Larry Speakes laughed when he received the first public question about the AIDS epidemic — and what followed was what many people might call the "plague years" of the AIDS epidemic. 
"What's AIDS?" Speakes asked when the journalist, Lester Kinsolving, asked about government response to the epidemic. 
"It's known as the 'gay plague,'" Kinsolving replied. 
The room laughs and Speakes cracks jokes about whether anyone in the room has it. 
Reagan first spoke publicly about AIDS in 1985, after a reporter asked him about AIDS research at a press conference. By the time Reagan finally made a major speech about AIDS to the public in 1987, HIV had killed more than 20,000 people nationwide. Today, an estimated 36.9 million people worldwide live with HIV and 1.2 million of those people live in the United States. HIV is a disease that affects society's most marginalized — people of color, the gay and trans communities and people living in poverty.
It is wholly incorrect to say that the Reagans started a "national conversation" about HIV/AIDS, especially when there is clear indication that is incorrect. What we do have is poster after poster, many made by AIDS activist groups, showing just how much they felt Reagan was at fault for much of the silence around the AIDS epidemic.
Here's the truth about the national conversation about HIV/AIDS: Activists forced a reluctant government to discuss the epidemic.
Here's the truth about the national conversation about HIV/AIDS: Activists forced a reluctant government to discuss the epidemic.
Groups like the AIDS Coalition to Unleash Power — a group that at its height included thousands of members, many of them living with AIDS — deserve the credit for starting a national conversation about HIV.
"They did nothing to start the national conversation," Jennifer Avril, a member of ACT UP, told Mic. "Activists in Denver, California and New York started the conversation and never stopped, even while Reagan's policies and inaction allowed the deaths of hundreds of thousands of Americans."
Avril said Clinton needs to learn her "HIV 101" before making any further comments. "I'm disappointed in her," she said.
Alysia Abbott, who took care of her father before his eventual death from an AIDS-related illness in 1992 and wrote about it in the memoir Fairyland, also had a much different recollection of events surrounding the HIV/AIDS conversation. 
"The Reagans did precisely nothing to start a national conversation about AIDS," Abbott told Mic. "They did everything to avoid it."
"One day we we'll look back on those years as a moral low point in this country, a time when those in power turned their backs on the most vulnerable in society ... because these people with HIV and AIDS were other, 'not us,' and somehow not deserving of concern and mobilization." 
With the recent death of Nancy Reagan and the public disclosure of Charlie Sheen's HIV-positive status, HIV awareness is seemingly higher than ever. Apparently, the real history of the disease is not.
March 11, 2016, 4:35 p.m.: This post has been updated.