Yeezy Season 3 Pricing: A $195 T-Shirt and Other Items in Kanye West's Fashion Line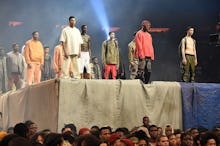 Last month, rapper and mogul Kanye West debuted his latest fashion collection (and album) Yeezy Season 3 at Madison Square Garden in New York City. Like his previous collections, the newest was consistent with his typical urban high fashion theme of fur, monochromatic sweaters and torn garments. Just wait until you see the Yeezy Season 3 prices. 
A Reddit user has leaked most of the alleged prices of Yeezy Season 3, and it turns out to be more affordable than the previous two collections (but still really expensive), High Snobiety reported on Friday. 
Allegedly, T-shirts will go for $195 (as the most affordable articles), oversized destroyed mohair cardigans will go for $1,800 and unisex shearling flight coats will go for $1,500. An inside source at High Snobiety claimed that the $1,800 sweater is inaccurate, and that'll probably be priced closer to the $325 hoodies.  
Read more: Kanye West's Yeezy Season 3 Models Held Up Black Power Fists as the Album Came to a Close
It's universally agreeable that Yeezy Season 1, which went on sale in October, cost a pretty penny, according to Racked. A flight jacket that was worn by the Weeknd in a GQ spread cost up to $3,250. "Each piece is made in Italy at some of the world's best factories, using only the finest materials," High Snobiety's Brock Cardiner reasoned. "The leather is what you'd expect from a storied French house, while the technical fabrics featured in the collection could easily have been developed and used by urban fashion's leading forces."
But in January during Yeezy Season 2, West had said he would lower the prices of the next season, according to Refinery29. 
Although the pricing may be leaked, consumers are still waiting for Yeezy Season 2, which is cheaper than Yeezy Season 1, to finally hit shelves, Racked reported.