Gwen Stefani's "Misery": Meaning Behind the Lyrics Will Give You Hope After Heartbreak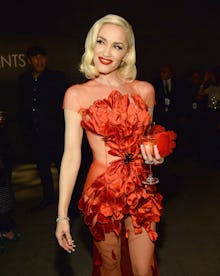 On Thursday, former No Doubt frontwoman and pop star Gwen Stefani released a new track called "Misery," from her upcoming and third solo album This Is What the Truth Feels Like, which will drop March 18, E! Online reported. As the album's name implies, the song could very well be an honest chronicling of her personal breakup from husband of 13 years Gavin Rossdale and her new relationship with Blake Shelton.
The upbeat pop song is about the feeling of finding a new romance after the end of another. In the song, she compares giving into her budding love to the high of a drug, "I'm trying not to care, but where'd you go?/ I'm doing my best to be sensible/ I'm trying not to care, but/ You're like drugs, you're like drugs to me/ I'm so into you totally," according to Genius. 
Read more: Gwen Stefani's 2015 Was About Starting Over — Here Are 5 Inspiring Hits for the New Year
On Thursday night and over Twitter, Shelton said the song was "So awesome.."
Stefani had released the first single "Used to Love You" back in October and the second single "Make Me Like You" just last month. "Misery" completes the relationship-themed single triad. 
"I have to make music out of this," Stefani told the New York Times about how her divorce — and the media's frenzy over it — influenced her new music. "That's what God wants for me."