Photos of Black Panther, Ta-Nehisi Coates' Comic Book Revival, Released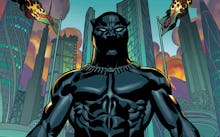 While Spider-Man is getting all the latest buzz for his brief cameo in the latest Captain America: Civil War trailer, it's easy to forget that another superhero will be making his first appearance in the Marvel Cinematic Universe. Black Panther, Marvel's first black superhero — who first debuted in 1966 — will be played by Chadwick Boseman in the upcoming film, with a spinoff movie set for the character in 2018. 
However, with the hero set to celebrate his 50th anniversary this year, Marvel has teamed up with National Book Award winner and MacArthur genius grant recipient Ta-Nehisi Coates to create a comic revival for the character. Like the original iteration of the character, Coates said Black Panther will mirror real-life events in the narrative — and overall, a reflective look at society. 
Read more: In One Tweet, Ta-Nehisi Coates Reveals the Power of Being Born Black
"Research is crucial in both cases," Coates wrote for the Atlantic. "The Black Panther I offer pulls from the archives of Marvel and the character's own long history. But it also pulls from the very real history of society — from the pre-colonial era of Africa, the peasant rebellions that wracked Europe toward the end of the Middle Ages, the American Civil War, the Arab Spring and the rise of ISIS." 
The new Black Panther comic will be released in April, but in the meantime, check out the Black Panther images — including variant covers — Marvel has provided below.