Hillary Clinton Apologized for AIDS Gaffe, but Internet Tore Her Apart Anyway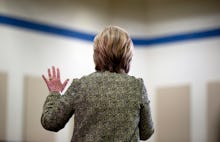 After 2016 Democratic presidential candidate Hillary Clinton's gaffe in an MSNBC interview Friday, in which she said Ronald and Nancy Reagan were instrumental in starting a conversation about HIV/AIDS, the time between her misstep and the apology was just a few hours. 
At 4:24 p.m. Eastern, Clinton tweeted this message out from her account: "While the Reagans were strong advocates for stem cell research and finding a cure or Alzheimer's disease, I misspoke about their record on HIV and AIDS. For that, I'm sorry." 
The original gaffe spurred a controversy on Twitter that saw people revisit former President Ronald Reagan's legacy on AIDS — which was, for those who remember it, extremely lackluster. 
However, even after the apology, people were still not willing to cut Clinton any slack. 
But, bottom line, not everyone is ready to abandon Clinton and #FeelTheBern over a single gaffe.