The Top-Rated TV Shows All Have Something in Common: A Compelling Antihero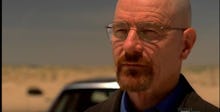 It's difficult to pinpoint any specific characteristics of the Golden Age of television, as the shows range in genre and setting (Game of Thrones is set in Westeros, and the equally great Breaking Bad was set in New Mexico), among other qualities. However, one consistent factor in the best TV series is the presence of antiheroes. 
They're flawed, and they will occasionally do horrible things — but they each have an inherent humanity behind all their rough edges, and audiences tend to gravitate towards them. Here are seven of the most compelling and complex antiheroes from the still-thriving Golden Age of television. 
Editor's Note: Spoilers ahead for multiple series, incluing Game of Thrones, Breaking Bad and more.
Read more: Which HBO TV Shows Have Most Influenced Its Present-Day Programming? Quite a Few, Actually
Daryl Dixon — The Walking Dead: While Daryl (Norman Reedus) does sport literal angel wings on the back of his jacket, he is — for the most part — distant and prefers to be on his own. That "lone wolf" persona is a classic antihero trope, and it's through Daryl's brother Merle (Michael Rooker) that we see the layers behind his reserved persona. 
Daryl's older brother is crass — equal parts misogynist and racist — who has very few redeemable qualities. In his brother's death, however, Daryl grows closer to Rick (Andrew Lincoln) and the rest of the group of survivors. Notably, he has intimate connections with Carol (Melissa McBride) and Beth (Emily Kinney) — the latter of whom is killed, leaving Daryl in a disheveled emotional state. 
He's not wholly good or evil — though in recent seasons the pendulum certainly swings toward good — but Daryl is one of the best characters on TV. He's so good, in fact, that fans will likely riot if he dies this season. 
Walter White — Breaking Bad: The show's creator Vince Gilligan always knew Walter White (Bryan Cranston) would make a "Mr. Chips to Scarface" transformation in the show — though it's because of the incredible production that Breaking Bad is hailed as one of the best television series ever made. 
Walter's ascension from a high school chemistry teacher to infamous drug kingpin was gradual, but his damning choices at the end of the series all but completed the turn: he poisoned a child to gain the trust of his partner, Jesse (Aaron Paul), by blaming it on his rival, Gus Fring (Giancarlo Esposito). White is arguably a full-fledged villain by the end of Breaking Bad, but for the majority of the show's run, he's an incredible antihero.  
Nicholas Brody — Homeland: Brody (Damian Lewis) is a marine who returns to the United States after being a prisoner of war for several years. After his return, he is lauded as a hero for surviving the ordeal. That's far from the truth in Homeland, as Brody is initially a sleeper agent for the show's al-Qaida, though he struggles with the moral implications of his turn throughout the show. 
By the end of Brody's run in the series, his romantic involvement with CIA agent Carrie Mathison (Claire Danes) allows him to make peace with his impending death, as he becomes a scapegoat for the growing tensions between the U.S. and Iran. 
Nancy Botwin — Weeds: Sure, she isn't Walter White, but the suburban Nancy Botwin (Mary-Louise Parker) also goes down the drug-dealing rabbit hole as a means to support her family. As Weeds progresses, her ambitions grow and she dives deeper into a weirdly funny life of crime. In fact, she marries a Mexican drug kingpin (Demián Bichir) and treats the one character in the series who cares for her, Andy (Justin Kirk), like garbage.  
Her devious intentions grow wider in scale, and by the end of Weeds, it's impressive to see Nancy still standing after all of her close encounters. At the very least, she could've avoided most of them.  
Don Draper — Mad Men: Don Draper (Jon Hamm) fills the stereotypical 1960s businessman persona perfectly. He lies, cheats and abuses his subordinates as a means to advance himself in advertising — and literally took his awesome-sounding name from a deceased war comrade. 
The complex character is highly disingenuous, but redeems himself at the end of Mad Men when he attempts to do right by his family and friends — which counts for something. 
Dexter Morgan — Dexter: A serial killer doesn't fit a traditional antihero mold by any means — they kill people — but Dexter Morgan (Michael C. Hall) in the titular role is a specific exception. At a young age, he was trained by his adoptive cop father Harry (James Remar) to abide by a killing "code," in which Dexter will only murder other murderers.
It makes the character a compelling, almost-heroic vigilante, even if the basis behind it is his disturbing lust for blood. However, in the series' later seasons, Dexter breaks the code further and further as a means of self-preservation. In his most abhorrent act, he attempts to murder Lieutenant LaGuerta (Lauren Luna Velez) after she discovers his serial-killer alter ego, but his sister Debra (Jennifer Carpenter) kills LaGuerta to save him.
Jaime Lannister — Game of Thrones: It's hard to find any basis to support Jaime Lannister (Nikolaj Coster-Waldau) at the beginning of Game of Thrones — he's essentially introduced while having sex with his sister, Cersei (Lena Headey) and pushing a small child out of a window after the child accidentally snoops in on their incestuous lovemaking. 
However, Jaime has made impressive strides in the seasons since, helping the likes of Brienne (Gwendoline Christie) and his brother Tyrion (Peter Dinklage) escape perilous situations. He even makes amends with his biological daughter Myrcella (Aimee Richardson) — though their bonding is abruptly cut off after she's poisoned. Only on Thrones.