Ellen Page Talks Representation at SXSW: "There Can Be Such Loneliness and Isolation"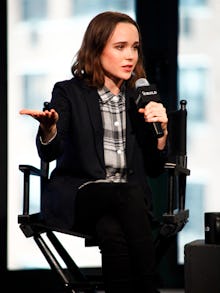 AUSTIN, TEXAS — Ellen Page's new travel show Gaycation, despite its light title, isn't just about her and her best friend taking a few trips. It's indeed about gay life — but across the globe, including in countries where being gay is punishable by death. In the trailer alone, Page and co-host Ian Daniel see a man who suffered acid burns for his sexuality.
It's not every day an Academy Award-nominated actress takes on a documentary project that puts them in danger for simply being gay. But Page, who has been an outspoken advocate for LGBTQ rights since coming out, isn't an ordinary actress.
"I'm a naturally curious person. I wanna learn about other people," Page explained at her keynote Q&A at Austin's South by Southwest film festival. Then, winking at her heavily publicized battle with Ted Cruz over gay rights: "Even people who potentially don't like me."
Yet Page knows she occupies a high pedestal as a cis, white, gay woman who enjoys the benefits of celebrity. "I'm a privileged person. I live in Los Angeles," Page said. "I can walk down the street and kiss my girlfriend."
Page thinks quite a bit about the people who don't have that chance, she said. That's why she ran with this opportunity and made Gaycation all about the stories of people who aren't able to do so. That's why she thinks representation is so important in pop culture — whether it's being a gay kid who doesn't know anyone else to Page herself finding But I'm a Cheerleader on TV and identifying with Natasha Lyonne's character.
"There can be such loneliness and isolation when you're growing up in a society that does infuse this idea in you that you're different," she said.
Representation and diversity in entertainment is an intense, ongoing conversation with no clear solution. But every show like Gaycation is a step toward greater inclusion — both in front of and behind the scenes. It's not just gays with privilege like Page and Daniel that are represented. For the hosts, being able to tell the stories they tell through the series' four episodes is what's important.
"As cute as we are as friends, traveling the world together, we are taking this seriously," Daniel said.
Gaycation airs Wednesdays at 10 p.m. Eastern on Viceland.