Secret Service Agents Surround Donald Trump After Man Climbs on Stage in Ohio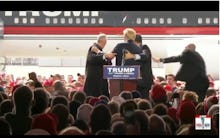 At a Trump rally in Dayton, Ohio on Saturday, bodyguards rushed onto the stage and formed a circle around Republican presidential frontrunner Donald Trump after a disturbance spooked security.
The candidate seemed shaken as the bodyguards surrounded him, his jet clearly visible in the background. Politico confirmed the security officials were Secret Service agents.
Reporter Chrissie Thompson said the remarkable protective maneuver came after a man attempted to climb on the stage.
Trump himself seemed particularly on edge a day after one of his rallies in Chicago was postponed due to fights between attendees and scores of protesters. At the event, he told supporters to use force to defend themselves — an ominous statement given the many, many times Trump fans have violently attacked people of color at his rallies — and repeated claims he was the "most militaristic" candidate in the race.
Meanwhile, a photo of a Trump supporter holding her right arm out in a Third Reich-esque salute outside the Chicago rally began circulating on social media. The salute may have been inspired by a prior rally in Florida, where Trump asked voters to raise their arms and pledge loyalty to his campaign.
Trump's son Donald Trump Jr. spread a theory that the woman in question was a Democratic plant — in the process citing Vox Day, a notorious white nationalist blogger.
Twitter users quickly corrected Trump Jr.
On Twitter, Trump insisted disturbances at his rallies simply made his message resonate with more Americans and called protesters "thugs."
Fellow candidate and Florida Sen. Marco Rubio looked tired and beaten in an appearance on MSNBC. In a clear reference to Trump, Rubio said "I don't know" if he would continue to support the eventual Republican nominee, but "it's getting harder every day."
Update: March 12, 2015 at 5:00 pm.
This post has been updated to reflect confirmation the security officials involved in Saturday's incident are Secret Service agents.