Here's What Young Cuban-Americans Really Think About President Obama's Cuba Trip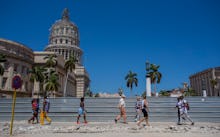 MIAMI, Fla. — President Barack Obama is set to make history.
In just over one week, he will embark on a planned trip to Cuba, marking the first visit to the island by a U.S. president in 80 years.
Ask the White House, and the trip represents one of the crowning achievements of Obama's foreign policy, the culmination of years of tough negotiation and proof that Obama's commitment to hard-nosed diplomacy — with both America's allies and enemies — can work.
"Engagement stands a better chance of advancing our interests and values than isolation," Ben Rhodes, deputy national security adviser for strategic communication, recently told Mic in an exclusive interview in Washington, D.C.
Rhodes, who was one of the chief architects of the Cuba policy, said normalization of U.S.-Cuba relations could ultimately pave the wave for a broad range of benefits, such as educational exchanges, expanded cultural ties, mutually beneficial business ventures, and perhaps most importantly, a pathway to reconciliation between the American and Cuban people.
That, of course, is the dream — and it stands in striking contrast to the current, harsh reality.
Only Getting Worse
If you look closely, you see a nation with a dismal track record on human rights violations — chief among them that the Cuban government stands accused of repressing dissent and rounding up and detaining political prisoners. Artist Danilo Maldonado aka "El Sexto" planned to release two pigs on which he painted the names Fidel and Raúl Castro. Before he could, he was arrested and detained without charges for 10 months, before recently being released amid a series of protests. Artist Tania Bruguera was also detained recently for reading Hannah Arendt's The Origins of Totalitarianism aloud at her home. 
These are abuses that don't square with American hopes for a free democracy in Cuba — and there are many signs that these egregious violations are only getting worse.
According to the Cuban Commission for Human Rights and National Reconciliation, there was was a marked increase in reports of arbitrary detentions in 2014 — the same year Obama announced the U.S. would normalize diplomatic relations.
For this reason, Obama has drawn sharp criticism from Republicans on the campaign trail, including from the two candidates who have Cuban heritage: Florida Sen. Marco Rubio and Texas Sen. Ted Cruz.
In the most recent debate, Rubio laid out his requirements for working with Cuba as president.
"Cuba has free elections," Rubio said. "Cuba stops putting people in jail for speaking out. Cuba has freedom of the press. Cuba kicks out the Russians from Lourdes and kicks out the Chinese listening station in Bejucal. Cuba stops helping North Korea evade U.N. sanctions. Cuba takes all of those fugitives of American justice, including that cop-killer from New Jersey, and send her back to the United States and to jail where she belongs, and you know what? Then we can have a relationship with Cuba." 
Meanwhile, Cruz attacked Obama's trip on Twitter:
Both contend that engagement has served only to legitimize the Castro regime and eliminate America's leverage to pressure Cuba for change.
The duality of the real hope that good will foment between the U.S. and Cuba in contrast to the real fear that America is legitimizing the atrocities of the Castro regime can be felt acutely in Miami, which has an estimated Cuban population of about 125,000, the largest in the United States. In speaking with young Cuban-Americans here, it is quite clear that unlike previous generations, millennials are generally supportive of Obama's policy. But they are also clear to emphasize that Obama must use his visit to pressure Cuba to become more democratic if he is to maintain the support of the Cuban-American community.
It's all about millennials. 
There has been a striking shift in Americans' public opinion toward Cuba over the past two decades, and much of it has been fueled by millennials.
"There has been a shift in the opinion of the Cuban-American community," Rhodes told Mic. "A lot of that shift has been driven by a younger generation."
That sentiment, of course, is not universally shared, but public polling indeed bears this out:
A large part of that shift, according to former CNN anchor Soledad O'Brien, whose mother is Cuban, can be attributed to the fact that millennials are several generations removed from former Cuban President Fidel Castro's rule.
"The generational gap is so huge," O'Brien told Mic. "Young people think of Fidel Castro as someone's grandfather."
Indeed, millennial Cuban-Americans say they are able to talk about Cuba openly and honestly, in a way that would have been unthinkable for previous generations. "It's talked about differently amongst our friends than our parents and grandparents," Alana Greer, a second-generation Cuban-American who lives in Miami, told Mic. "For our generation, there is a reconnection, without some of the baggage that our parents' or grandparents' generation feels."
A Complicated Picture
But while millennial Cuban-Americans are generally supportive of Obama's Cuba policy, they also share concerns over the country's ongoing human rights crisis.
On Friday, young Cuban-Americans aired their grievances to Rhodes at a town hall event at Miami Dade College organized by the White House and Roots of Hope, a Cuban student and young professional organization. The forum, which was intended to give young Cuban-Americans an opportunity to speak with Rhodes ahead of the president's visit, took on a testy tone at times, with the bulk of student criticism revolving around human rights.
Rhodes, well aware of these challenges, revealed that Obama will be meeting with a roundtable of dissidents and human rights activists, in addition to government officials like President Raúl Castro, during his visit.
Rhodes also reaffirmed his belief that engagement, not isolation, will put the United States in a better position to pressure the Cuban government to change. "The Cuban government used the embargo, and our policy of isolation, as a source of legitimacy for decades," Rhodes told Mic. "Isolation and pressure did not achieve its objectives. Our belief is that in opening up relations, we are going to be in a much better position to support the human rights situation."
High Stakes, High Reward
For young Cuban-Americans, the success of the president's trip hinges on whether he is actually able to apply this pressure.
"There is definitely light that something could happen, with this opening," Jose Diaz, a student at Miami Dade College who emigrated from Cuba four years ago, told Mic. "But I have many friends and family that do not accept this trip. President Obama needs to actually see [what it's like for] the Cuban people, including the working class of Cuba, and not just stick to an agenda that is orchestrated by the government."
Millennials said they are looking for Obama to send a bold message on his upcoming trip, not just participate in fun, attention-grabbing cultural activities like attending a baseball game.
"Many people want Obama to make a statement," Wilfredo Fernandez, a second-generation Cuban-American and Miami entrepreneur, told Mic. "That he is going to meet with some dissidents is a statement in it of itself, but what happens in his bilateral meeting [with Castro] will really set the tone."
What's clear in talking to young Cuban-Americans is there is a lot riding on Obama's visit. While Rhodes certainly recognizes the challenges ahead, that doesn't make them any easier to solve.
The president will have to prove, through both his words and actions, that engagement is a better pathway to democracy than isolation. Obama's foreign policy legacy hangs in the balance.