Hillary Clinton Issues Second Apology for Praising Nancy Reagan's Nonexistent HIV Advocacy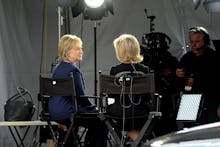 Democratic presidential candidate Hillary Clinton, who drew the ire of many in the LGBT community this week after praising former First Lady Nancy Reagan as a "very effective, low-key" advocate who "penetrated the public conscience" for people with HIV/AIDS in the 1980s, has issued a lengthy apology on Medium.
Clinton had already issued a Twitter statement saying she had "misspoke," but the new post is a lengthier attempt to correct the record on Ronald Reagan's presidency. Both Reagans remained publicly silent about the emergence of HIV/AIDS for years, during which time the virus killed tens of thousands of people — a disturbingly outsized portion of which coming from the LGBT community.
"Yesterday, at Nancy Reagan's funeral, I said something inaccurate when speaking about the Reagans' record on HIV and AIDS," the post reads. "Since then, I've heard from countless people who were devastated by the loss of friends and loved ones, and hurt and disappointed by what I said. As someone who has also lost friends and loved ones to AIDS, I understand why. I made a mistake, plain and simple."
"To be clear, the Reagans did not start a national conversation about HIV and AIDS," the statement continues. "That distinction belongs to generations of brave lesbian, gay, bisexual, and transgender people, along with straight allies, who started not just a conversation but a movement that continues to this day."
Immediately after Clinton's second apology went live, Twitter reacted with a mix of forgiveness and skepticism. 
According to a BuzzFeed investigation released in February, Nancy Reagan not only remained silent on the issue but personally declined to help her dying friend Rock Hudson in 1985 after he came to her for help receiving HIV treatment. Clinton's original comments confused and angered LGBT groups, who saw the praise as incorrect at best.
Read the rest of Clinton's post, titled "On the fight against HIV and AIDS — and on the people who really started the conversation," on Medium.