Donald Trump Is Considering Paying Legal Bill of Supporter Charged With Assault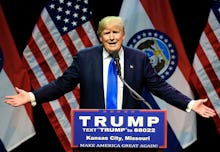 It's a promise he's made before, but no one knew whether or not he meant it. Now, Donald Trump is actively considering footing the legal bill for a supporter, John Franklin McGraw, who was charged with assault at one of his rallies, the Associated Press reported.
"I've actually instructed my people to look into it, yes," he told NBC's Meet the Press.
Trump had just been asked if he would assist McGraw with the fees he incurred when he attacked Rakeem Jones, a protester whom sheriff's deputies were escorting out of a Fayetteville, North Carolina rally. McGraw punched Jones in the face, and according to NBC News, now has a court date scheduled for April 6.
Read more: Can You Spot the Difference Between a Bernie Sanders and a Donald Trump Chicago Rally?
The assault was captured on video; thereafter, McGraw was unrepentant, saying Jones "deserved it" and that "the next time we see him, we might have to kill him," as NBC News reported. 
According to the AP, Trump believes that McGraw simply "got carried away," explaining on Meet the Press that "maybe [McGraw] doesn't like seeing what's happening to the country." 
The violence that's fast becoming synonymous with "Trump rally," meanwhile, has been bemoaned as a national disgrace by the media and politicians alike, even those within Trump's own party. After Trump postponed a rally at the University of Illinois at Chicago on Friday, his supporters clashed with the protesters gathered on the scene  and all five of his fellow candidates condemned him.
"America is better than this. We don't have to tear each other apart," Texas Sen. Ted Cruz said. 
Trump's position on his supporters' behavior is unclear. On Saturday, he called for police in Kansas City, Missouri to arrest protesters at a campaign event where he was speaking. Responding to a question about McGraw's behavior during Thursday's Republican debate, though, Trump said that he doesn't condone the violence, but he does understand it. 
And he's also promised that he'll absorb the cost of attacks on protesters at his rallies. "If you see somebody getting ready to throw a tomato, knock the crap out of 'em, would you?" he said during an Iowa address. "Seriously. Okay? Just knock the hell — I promise you, I will pay for the legal fees. I promise. I promise."
Now that he's making good on that pledge, it becomes difficult to argue that he's not purposefully inciting his supporters to violence. And certainly, if Trump's taking care of the consequences, his camp has little reason to alter its actions.