Kanye West Says He's Going Rogue, Vows 6 Fashion Collections and 3 Albums a Year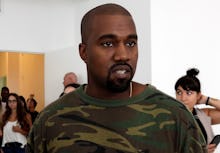 Take it with a grain of salt, but Kanye West is tweeting #facts again.
The "Ultralight Beam" rapper announced Saturday he's gone rogue — like, Mad Max: Fury Road rogue. After claiming Adidas is producing one million Yeezy sneakers in 2016 and saying he hates suit jackets on women, West declared he'll no longer abide by traditional fashion calendars and album release precedents. 
"No more fashion calendar," West tweeted Saturday. "I'm going Mad Max... 6 collections a year... 3 albums a year."
Read more: 12 Recent Kanye West Quotes That Show Yeezy Might Be Having a Breakdown
The sudden announcement comes as an obvious shock to Yeezy fans, and follows another West rant on Wednesday in which the rapper shared his thoughts on fashion being "stuck in the past and tradition," as well as thanking Balmain designer Olivier Rousteing "for designing his collection around my wife [Kim Kardashian West]." "This is visionary as I believe that Kim is our modern day everything," West wrote on Wednesday.
Unfortunately, this would mean West still has a lot of work to do in 2016 if he wants to reach his goal of six collections and three albums. The Life of Pablo and Yeezy Season 3 mean we have one of each, and West has already alluded to another album dropping in the summer, though no word of a forthcoming Yeezy Season has been teased. 
So, two down, seven more projects to go.