Ben Carson's Endorsement of Donald Trump Mocked on 'Saturday Night Live'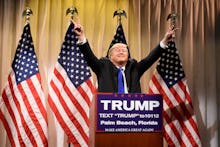 Former Republican presidential candidate Ben Carson officially endorsed Donald Trump for president on March 11. Saturday Night Live stars Darrell Hammond and Jay Pharaoh reenacted the announcement during a skit last evening.
After being mistaken as a protester, Ben Carson, played by Pharaoh, was attacked at Trump rally. "Breaking news right now, we're getting word now of yet another incident of violence at a Donald Trump rally," Beck Bennett, playing the role of CNN anchor Jake Tapper, said while introducing the duo. "Apparently the victim was this man, Dr. Ben Carson, who was attacked moments ago by an angry mob that mistook him for a protester. We go there now."
Read more: Ariana Grande Suffers Wardrobe Malfunction While Hosting 'Saturday Night Live'
"It's okay, I'm fine," lamented Pharaoh as Carson, holding a steak to his eye. "Guys what did I say? Not this one. This is one of the good ones," the GOP frontrunner complained.
"Don't worry, we have a very classy Trump steak on his eye. And to the media, please don't use this as an excuse to call me racist," Hammond, who played the billionaire businessman Donald Trump in the skit. 
The duo proceeded to go down the list of Trump's black friends, which consisted of The Apprentice star Omarosa, former NBA All-Star Dennis Rodman and boxer Mike Tyson.
The democratic side also received its share of jokes, with Larry David returning as Vermont Senator Bernie Sanders. "My message is resonating with a very diverse group of white people. I've got supporters of all ages: 18-year-olds. 19-year-olds," Sanders, played by David, said, according to the NY Daily News.