Kerry Washington Uses Her SXSW Session to Talk About Social Good on Social Media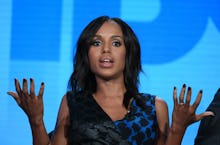 AUSTIN, TEXAS — Few stars know the power of social media like Kerry Washington. Her show Scandal became the hit it is in large part because of an active live-tweeting community. Heavy social media promotion during the show by the cast and creators begat ABC's #TGIT programming block. Now, nearly every network show factors live-tweeting into their strategy.
But Washington uses social media for much more than just promoting herself and her TV show. She also uses it to spread social good.
Read more: The Strangely Close Connections Between 'Gilmore Girls' and Shondaland
At Austin's South by Southwest film festival, Washington talked with moderator Ariel Foxman of InStyle magazine about the so-called "new rules" of being a star on social media. She tweets and retweets people involved with powerful movements, shouting out Michael Skolnik in particular. It's not a calculated thing; as she put it, "My posts are not for sale."
"The key for social media is authenticity," Washington told the crowd. "I try to talk about the things that are important to me and touch my heart."
The actress told Foxman she thinks "the world has become smarter" and more capable of having "global conversations" about social issues. The key, she says, is getting the best information in the hands of the many.
Foxman also asked about Washington's controversial cover of his own magazine, InStyle, that featured the actress with lightened skin. Fans expressed their anger; Washington was thrilled that social media could give them a voice. InStyle changed their practices for the future.
"To be able to have those feelings heard, acknowledged, respected and incorporated into best practices?" she said. "That is the beauty of social media: that voices can be heard in that way."
Interestingly for a social media maven, Washington said these platforms didn't come to her naturally; like fashion, it was something she adapted to because she saw other actresses doing it. "This is now an extension of what I do," she added.
Scandal airs Thursdays at 9 p.m. Eastern on ABC.