Northwestern Students Charged With Spray-Painting Racial Slurs, Trump's Name in Chapel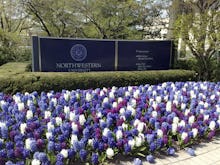 Two Northwestern University freshmen have been accused of spray-painting racial slurs, homophobic messages and the name of GOP presidential candidate Donald Trump inside of a nondenominational chapel on the university's campus in Evanston, according to the Chicago Tribune. 
The duo snuck inside the Alice Millar Chapel, and "spray-painted an expletive and a slur against African-Americans with a swastika on the chapel hallway," according to Assistant Cook County State's Attorney Brooke Shupe. Their destruction did not end there, as they spray-painted a derogatory term for homosexuals, and spray-painted lines over pictures of Muslim students, according to the report.
Read more: The One Photo You Need to See From Donald Trump's Canceled Rally in Chicago
The students then went on to spray-paint penises across the church, also spray-painting the word "Trump" in a stairwell. The damage is estimated to be more than $300, university officials said.
"These allegations are disgusting to me," Cook County Judge Peggy Chiampas said Saturday to 19-year-old Anthony Morales and 18-year-old Matthew Kafker, who were both held in lieu of $50,000 bail. "I don't know if any of you know how lucky you are to be at Northwestern University." The duo faces charges of institutional vandalism to the Alice Millar Chapel, a hate crime to a place of worship and criminal damage to property for their spray-painted messages.
The two freshmen, who said nothing during the hearing, admitted they were responsible for the crimes prior, having given handwritten and recorded statements to university police, according to Shupe.