Armed Gunmen Storm Hotels in Ivory Coast, Killing Many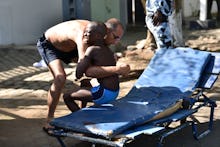 Armed men attacked two hotels in the Ivory Coast resort town of Grand Bassam on Saturday, killing at least 16 people, the Guardian reports.
Photos from the scene showed equipment and weaponry used by the attackers, including hand grenades and clips of ammunition.
"For the moment, we have a total of 12 dead, including four Europeans," a security official told Reuters. "We don't know yet if there are others. We are doing clean-up operations right now."
According to the Guardian, one witness reported the attackers wore balaclavas and "fired at guests at L'Etoile du Sud, a large hotel which was full of expats in the current heatwave." On BBC, footage apparently from the scene showed hotel guests and employees fleeing the gunmen. Graphic images from local photographers showed dead bodies on the sand just inches away from towels, coolers and other beach gear.
Other targets identified by Bloomberg include the Wharf Hotel and Hotel La Taverne.
Similar attacks on tourist hotspots in neighboring Mali and Burkina Faso have killed dozens in recent months. In each instance, the killers have identified with African terrorist groups including Boko Haram and a number of smaller organizations.
This is a breaking news story and will be updated as more information becomes available.