7 Tweets Prove Hillary Clinton Uses GIFs Better Than Any Other Presidential Candidate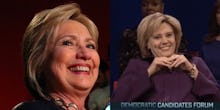 Former Secretary of State Hillary Clinton is using one weapon in her modern arsenal better than any other leading presidential candidate: GIFs. While Florida Sen. Marco Rubio has tweeted GIFs produced by Fox News and Texas Sen. Ted Cruz retweeted a single one this year, Clinton's campaign employs a variety of multimedia to connect with voters, mostly millennial, on the web. 
The Clinton campaign uses Twitter more as a platform for succinct and direct statements from the Democratic frontrunner, as well as political satire.
Read more: Michigan Primary Results Show Why Hillary Clinton Should Take Donald Trump Very Seriously
You might think Bernie Sanders, who has managed to solicit a massive following among young Democrats, has discovered the art of the GIF. However, the Vermont senator hasn't tweeted a single GIF this year, while his opponent for the Democratic nomination has been using them more frequently than ever before.
And she's using them to attack her targets. Just as the saying goes: "A picture is worth a thousand words." But a moving image with a hair flip? Priceless:
It's been a light way for Clinton and her campaign to connect with her supporters over the lengthy campaign trail, even while watching (and live tweeting) the October GOP presidential debate. At one point, as the leading Democratic frontrunner was being repeatedly lambasted by billionaire Donald Trump and several other Republican candidates, she sent out a GIF without any caption except for the night's hashtag, #GOPDebate. 
The short GIF was of Clinton brushing off her shoulder during her 11-hour marathon testimony on Benghazi, while seemingly appearing unmoved. It was a viral success, receiving well over 12 thousand retweets to date and producing headlines from several major publications.
Then she kicked up the rhetoric during the first March Republican debate, captioning another Benghazi GIF: "How many more of these do we have to sit through? Asking for a friend. #GOPDebate."
Clinton has also employed the help of her Saturday Night Live twin Kate McKinnon, who plays the former first lady in a number of skits over the course of the show's 41st season. While live tweeting Thursday night's most recent debate, Clinton combined two GIFs into one: McKinnon playing Clinton in an SNL scene, and another of Trump quoted, asking, "What am I saying?"
Clinton's campaign has gotten smart with its GIFs, combining them with statements from her website and using them to further her messages, from global warming to Wall Street. 
Sure, it's a small distinction in an ever-changing campaign season. But Clinton's spot-on attempt at speaking internet language will certainly appeal to young voters this year, who will play a major role in choosing between the Sanders and Clinton campaigns.