Suspected Car Bombing in Ankara, Turkey Leaves Dozens Dead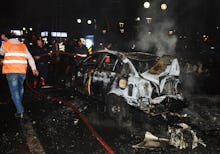 This is a breaking news story and will be updated.
An explosion in Ankara, the Turkish capital, on Sunday evening left at least 27 people dead and 75 wounded at 6:43 p.m. local time, Reuters reported. The suspected work of suicide car bombers, the blast occurred near government buildings, at Guven park in the city's Kizilay district. It lit several nearby cars on fire and produced clouds of smoke that could be seen miles away.
Read more: Armed Gunmen Storm Hotels in Ivory Coast, Killing Many
Ankara's governor issued a statement saying that the blast emanated from an "explosive-laden vehicle," parked near a bus stop as the Turkish Radio and Television Corporation (TRT) reported. A security official told Reuters that gunfire followed the explosion, which blasted a 20-passenger bus in the vicinity. Another said that a militant group, possibly the Kurdistan Workers Party (PKK), was thought to be behind the bombing.  
Ankara's pro-Kurdish party, the People's Democratic Party (HDP) has come out against the attacks, issuing a statement saying that it shares "the huge pain felt along with our citizens."
Authorities have cordoned off the area while they sweep for a second bomb. The explosion comes two days after the U.S. Embassy in Ankara warned, on March 11, that it had received word of a possible attack on nearby government buildings and a residential neighborhood.
If Sunday's explosion was indeed a suicide bombing, it would be the city's third in less than six months. On Feb. 17, Reuters reported, a car bombing in Ankara's city center killed some 29 people, near the site of Sunday's attack. According to the BBC, Kurdish militants took credit for that attack. In October, more than 100 people were killed in Ankara when suicide bombers struck a Kurdish peace rally.
Turkey is currently flanked by unfriendly forces. A NATO member, it's combatting the Islamic State in neighboring Iraq and Syria, according to Reuters, and simultaneously dealing with PKK militants in the southeast. 
March 13, 2016, 3:58 p.m.: This story has been updated.