Kanye West Updates "Famous" on 'The Life of Pablo' Before Final Release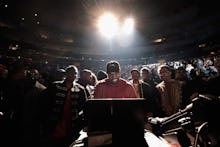 Kanye West's The Life of Pablo received somewhat of a face-lift Sunday afternoon. Multiple sites reported a lyric was replaced from "Famous," the anthem featuring Rihanna, ahead of West releasing final mixes for the 18-track album at an undisclosed date.
"Famous just got patched," Reddit user JayElect wrote Sunday. "She in school to be a real estate agent/last month I helped her with the car payments" and the transition to the bam bam breakdown is changed. 1:01 - 1:17 is also different. Sounds like Nina Synomes [sic] vocals are layered under Rihanna's. Rihanna's vocals in general have a lot more reverb. Not as ear piercingly loud as she was before."
Read more: How 'The Life of Pablo' Offers a History of Kim Kardashian and Kanye West's Relationship
Meanwhile, West tweeted up a storm, declaring his deep empathy for mankind while simultaneously giving a shout out to Justin Bieber.
Within a couple of hours, the Twitter rant totaled over 100,000 retweets, just in time for the latest update. Unfortunately, it seems the fixes for The Life of Pablo were albeit small — and didn't include any revisions for "Wolves" formerly featuring Sia and Vic Mensa.