Video of Man Urinating on Cereal in Kellogg's Plant Is the Thing of Breakfast Nightmares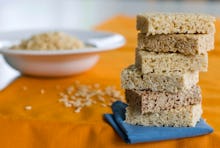 Matthew Mead/AP
For some cereal lovers, it may already be too late — the footage that surfaced Friday of an employee peeing on cereal at a Memphis, Tennessee, Kellogg's plant was filmed in 2014. World Star Hip-Hop uploaded the video on Friday, according to the New York Daily News. Naturally, it went viral. Because it's disgusting. 
Read more: 10 Healthy Breakfast Recipes That Actually Taste Good — And Aren't Cereal
"Kellogg takes this situation very seriously and we were shocked and deeply disappointed by this video," spokesperson Kris Charles said, according to the Daily News. "We immediately alerted law enforcement authorities and regulators. A criminal investigation is underway as well as a thorough internal investigation."
While it's all well and good that Kellogg's is "outraged" and committed to working "closely with authorities to prosecute to the full extent of the law," the affected products — Rice Krispies Treats, Rice Krispies Treats Cereal and puffed rice cakes — would all be well "past expiration date," the statement said. Which means anyone who's consumed any of those products in the past two years has quite possibly eaten dried urine.
Great.
There aren't really any health benefits to drinking one's own pee, but the good news is, consuming someone else's isn't likely to hurt you. So at least there's that.