Star Wars Actor John Boyega Spreads the Force to Sick Children in London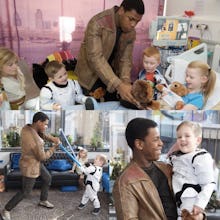 When he's not helping to save distant galaxies — not to mention a once flailing franchise — as the Star Wars Stormtrooper with a crisis of conscience, actor John Boyega spends his time doing good on Earth.
On Sunday, the British actor, best known for his role as Finn in Star Wars: The Force Awakens, posted a photo of his visit to the children's ward at the Royal London Hospital. Boyega reportedly spent much of his day with Daniel Bell, a boy with a brain tumor. 
The visit was captured by Boyega on his Instagram account, and promptly went viral.
Daniel's mother, Rosalind, told the Belfast Telegraph the visit was greatly appreciated.
"To see Daniel smile like that without a care in the world after everything he's been through, knowing how much time and effort Rays of Sunshine have put in to his wish and that John Boyega gave his time to make it come true, is priceless," she said. "These things can't be bought and really do mean the world." 
Read more: 'Star Wars' Actor John Boyega Shut Down Online Sexists Who Wanted a Day for Men