Donald Trump Sent a Thinly Veiled Threat to Bernie Sanders in This Viral Tweet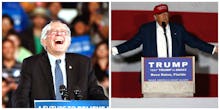 Republican presidential candidate Donald Trump is seeing an increasingly public resistance to his campaign.
A Trump rally at the University of Illinois at Chicago was canceled Friday after thousands showed up to protest; in Ohio on Saturday, a man bum-rushed the stage before he was taken down by Secret Service agents and arrested.
The Donald's response? He hit out at Bernie Sanders, tweeting Sunday he would send his own supporters to Sanders' rallies if he doesn't get his supporters in order.
While Sanders kept quiet, his supporters had fighting words aplenty, among them: "send them."
Some pundits anticipate this kind of antipathy for Trump and his xenophobic rhetoric will only intensify if he becomes the GOP nominee.
"But something like this was inevitable once Trump took his rabble-rousing campaign from predominantly white suburbs and exurbs to polyglot Northern cities, which are home to many of the people, including Hispanics and Muslims, who serve as the objects of Trump's rhetoric, as well as to an energetic left-wing protest movement," the New Yorker's John Cassidy wrote Sunday. 
While the rise of both Sanders and Trump signals a growing populism across America, their (and their supporters) worldviews remain fundamentally incompatible.
Read more: The One Photo You Need to See From Donald Trump's Canceled Rally in Chicago
Get the five stories that will challenge you to rethink the world by signing up for MicCheck Daily.