Who Is Ricky Alvarez? Here's What We Know About Ariana Grande's Alleged Boyfriend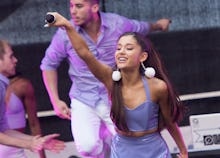 Ariana Grande made headlines over the weekend after she doubled as Saturday Night Live's host and performer. At the show's afterparty, Grande put her love life with alleged boyfriend Ricky Alvarez on display, Entertainment Tonight reports. Alvarez, who has appeared as Grande's backup dancer, has a professional-grade social media presence on Instagram that suggests a few things about him, including his fondness for photography, vintage cars and, perhaps unsurprisingly, Grande. 
Hollywood Life reported Alvarez and Grande have been seen embracing before, notably in July at a doughnut shop in Lake Elsinore, California. According to his Instagram bio, which is penned in the third person, "Ricky Alvarez don't sweat the small shit, it's all about the small shit."
Read more: "Dangerous Woman" Lyrics: Ariana Grande's Title Track Off New Album Has Femme Fatale Flair
Little few details are known about Alvarez, other than what his social media accounts show. Photos posted to his Instagram account seem to portray him as somewhat of a thrill seeker, tattoo lover and dog person. Alvarez has made mention of Grande on Instagram, including a post that credits her for his hairstyle that day and another photo of Grande he captioned, "I mean... I'm already focused."
On Twitter, Alvarez has a somewhat limited presence, however one tweet from April reads, "Ariana was here."
Grande has been on a roll recently, with her Saturday Night Live gig and with the recent release of "Dangerous Woman," which debuted last week. Grande also has an album on deck, also titled Dangerous Woman, which is scheduled for a May 20 release. Here's Grande's SNL opening monologue, which she kicked off by saying, "Thank you guys so much. I'm a singer, not a Starbucks drink."