Zendaya Fires Back at Comedian Julie Klausner for Skinny-Shaming Her on Twitter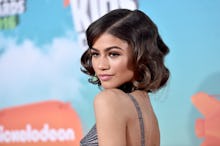 On Saturday night, Zendaya Coleman turned up at the Nickelodeon Kids' Choice Awards looking 24 levels of perfect while wearing a Ulyana Sergeenko dress. 
While many viewers cheered her on as the starlet accepted her favorite female TV star award, Difficult People creator/star Julie Klausner signed on to Twitter to air her grievances with Zendaya's body, of all things.
The next morning, Zendaya wasted no time in calling out the comedian for her disparaging, uncalled-for remarks.
The clapback was strong, but unfortunately the message was not received. In the hours that followed, Klausner's take became the definition of problematic when she began to engage in a back and forth with fans. 
Along the way, she didn't shy away from using incendiary language.
What gives a 37-year-old woman the right to make a 19-year-old teenager feel less than for simply living her life? Zendaya is just as known for her artistry as she is for her social consciousness and connection with her fans. 
Read more: Did 'W Magazine' Whitewash Zendaya and Willow Smith On Its Cover?
In 15-second Instagram snaps and 140-character Twitter quips, Z lets all of her followers know that they are worthy, no matter how they look or what they identify as.
Luckily, Zendaya wasn't phased by the commentary,
The rare use of profanity in the tweet drove home how serious the conversation was to the young star.
After being drug across the platform through the night by the likes of feminist author Roxane Gay and BuzzFeed writer Tracy Clayton, Klausner eventually did fess up in the smallest of ways to her error.
Yeah, you do that, sis.