Neil deGrasse Tyson Narrates Dance Theatre of Harlem Video, #BlackExcellence Ensues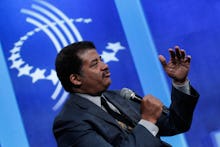 America's favorite mustachioed astrophysicist is back at it again with the voiceover narration, this time lending his talents to an exceptionally noble cause: the Dance Theatre of Harlem.
In a promotional video for Power. On Pointe. — the New York City-based, majority-black dance company's upcoming show — Tyson speaks over dazzling visuals of dancers superimposed atop images of the cosmos.
"There's a force out there more compelling than anything in the universe," he begins, "an unceasing energy that opens vistas to new worlds and transports humans to far off places in the blink of an eye."
"It's a force of disruption," he adds, "but the kind of disruption that forges stars, creates worlds, instigates change. ... It is a force as old as humanity itself."
If you can't tell by now, he's talking about dance. Tyson concludes, "And while most of the galaxy's phenomena are best viewed from a safe distance, this force must be seen up close."
Power. On Pointe. will run April 6 through April 9, and is advertised on the company's website as a showcase for female choreographers. All four performances will take place at the New York City Center on 55th Street between 6th and 7th Avenues.
We're now considering forgiving Tyson for this suspect tweet.