Barack Obama Just Got Real About the Beauty Pressures Black Women Face Every Day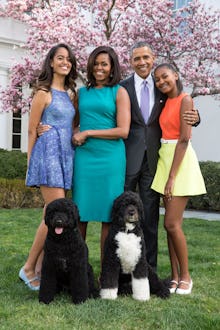 When Time magazine sat down for a conversation with President Barack Obama and ballerina extraordinaire Misty Copeland in late February, race, gender and what it really means to be a leader were all on the table. 
So, it turns out, was beauty. The lengthy chat, the transcript of which was published on Monday morning, swerved towards something surprising, especially since it came from inside the White House Cabinet room: the beauty pressures facing women — and black women in particular. 
Read more: Meet the Woman Behind the App Revolutionizing How Black Women Buy Makeup
Obama didn't shy away from talking about how our culture has affected black women and the beauty standards they currently face. 
"When I was a kid I didn't realize as much, or maybe it was even a part of which is the enormous pressure that young women are placed under in terms of looking a certain way," Obama said. "And being cute in a certain way. And are you wearing the right clothes? And is your hair done the right way. And that pressure I think [has] historically always been harder on African-American women than just about any other women." 
Is this the first time an American president has acknowledged the beauty standards facing black women today? It just might be.
"It's part and parcel of a broader way in which we socialize and press women to constantly doubt themselves or define themselves in terms of a certain appearance," Obama continued. 
Between this and when Hillary Clinton was asked about natural hair, conversations surrounding the unique beauty pressures facing black women seem to be louder and more out-front than ever, and for good reason. From hair texture to skin color to body proportions, women face all sorts of impossible beauty standards that are compounded for women of color.
And that's something even teens feel acutely — including 17-year-old Malia and 14-year-old Sasha, who are perfectly #teen in every way.
"I mean Malia'll talk about black girl's hair and will have much opinions of that," Obama said. "And she's pretty opinionated about the fact that it costs a lot, it takes a long time, that sometimes girls can be just as tough on each other about how they're supposed to look."
               Read more: These 12 Famous Black Women Wore Cornrows Before Kim Kardashian West
Obama said he hopes his obvious adoration and appreciation for his wife helps his daughters accept and love their own hair, bodies and selves. 
"The fact that they've got a tall gorgeous mom who has some curves, and that their father appreciates, I think is helpful," he said.
It's not just the first lady who serves as an example. Obama also acknowledges that we're moving in a better direction today in terms of body acceptance, given that we have more and more models of beauty that represent different races, sizes and so on. 
"You see Beyoncé or you see some of these pop stars and what both white, Latino, black children are seeing as representative of beauty is much broader than it was when I was a kid," Obama said. "You just didn't see that much representation. And that's healthy, and that's encouraging." 
As are you, Mr. President.