A Photo of Hillary Clinton and George W. Bush Sharing a Warm Embrace Has Everyone Talking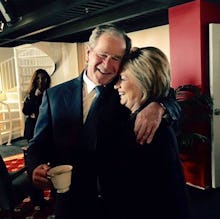 The political world united in an increasingly rare moment of bipartisanship Friday during the funeral of former first lady Nancy Reagan, as luminaries from both parties came together to pay their respects.
Some, however, are saying there may have been a bit too much bonhomie between the leadership of opposing camps, pointing to a photo of Hillary Clinton sharing a warm moment with former president George W. Bush.
The photo, which has been retweeted nearly 5,000 times, drew strong reactions — some agreeing with CNN political director David Chalian that the photo was inspiring, while others took aim at Clinton for cozying up to a figure widely reviled in the Democratic Party. 
With Clinton's long fight with Sen. Bernie Sanders for the 2016 Democratic nomination far from over, the photo stands to potentially dog Clinton in upcoming primaries in the coming weeks. 
Read more: Ronald and Nancy Reagan Ignored the AIDS Crisis and You Know It, Hillary Clinton