Kim Kardashian West's Nude Selfie Immortalized as Mural on Melbourne Wall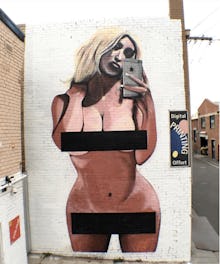 The Kim Kardashian West nude selfie that recently sent Twitter into a shame game spiral has gone meta: As Unilad reported, Australian graffiti artist Lushsux — "social media activist, vegan, intersectional feminist, bachelor of gender studies, wealthy industrialist and philanthropist," according to their Instagram handle — rendered the photo in 30 feet of painted brick, a towering mural in Cremorne, an inner-Melbourne suburb. 
Read more: Kim Kardashian Doesn't Want You to Slut-Shame Her for Her Sex Tape Anymore
And according to Unilad, the locals are displeased, having deluged the local radio station with disgruntled phone calls. Perhaps they missed the conversation about promoting body positivity that sprung up in the wake of Kardashian West's initial tweet, which has since been retweeted more than 130,000 times and garnered nearly 250,000 likes. 
The internet-breaking nude attracted criticism from internet trolls and celebs including Bette Midler, Chloë Grace Moretz and Perez Hilton; meanwhile, Demi Lovato, teen feminist Rowan Blanchard and even friend/foe Amber Rose came to her defense, while Kardashian West herself clapped back at her haters with blow-for-blow tweets and another nude, captioned "#Liberated." 
The body image debate makes Kardashian West's tweet a perfect subject for Lushsux, as it sits at the intersection of their avowed interests — social media activism and intersectional feminism. Their work isn't confined to the reality TV star, though: Previous mural subjects include GOP presidential frontrunner Donald Trump. And according to an Instagram post from Sunday, Lushsux will paint any nudes sent to her on walls. So get to direct messaging, would-be viral stars of the internet.
Just please don't send Trump nudes. Please.