Radiohead World Tour 2016: Dates, Cities, Tickets and Rumors on New Music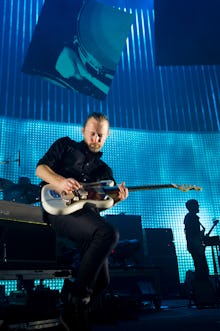 Radiohead has announced they will be embarking on a world tour starting in May. These newly scheduled dates are in addition to the six previously announced European shows, Pitchfork reported. Radiohead's upcoming tour will be the band's first live performances since their 2012 tour supporting their 2011 album The King of Limbs.
Read more: Rumored Radiohead New Album Cover Is Similar to Band's 1997 'OK Computer' Album Artwork
In addition to a world tour, the band has been hinting at new material. In September 2015, drummer Phil Selway spoke to NME about heading back into the studio to work on Radiohead's forthcoming ninth studio album: "We've got quite a busy autumn coming up," he said. "We want to finish a record and that's where we're at. We're just launching ourselves into it ... We kind of change record to record, try and change the underlying approach to making music." Selway went on to note that the band has a short attention span.
Selway's progress report was confirmed a day later when images of the band in the studio were posted on Twitter by composer Robert Ziegler, whom the band had previously collaborated with on King of Limbs. Though Ziegler's tweet has since been deleted, Consequence of Sound managed to nab the three images, two of which showed Thom Yorke, Ed O'Brien and Jonny Greenwood alongside producer Nigel Godrich behind a soundboard. 
The third image was a landscape shot of a large string orchestra, perhaps hinting at the direction the band is heading in. Then in October, after a "mistranslation" stemming from a Russian Radio interview, Greenwood confirmed that, though they have finished recording much of the new album, the band still needs to "go through it all." The announcement of the upcoming tour seems to imply they are finished "going through" everything, so fans can probably expect to hear Radiohead's new material soon.
Radiohead's 2016 tour dates are below; tickets for the majority of the shows go on sale this week.
May 20 and 21 - Heineken Music Hall in Amsterdam, Netherlands
May 23 and 24 - Le Zénith in Paris, France
May 26, 27 and 28 - Roundhouse in London, England
June 1 - Les Nuits Des Fourvières in Lyon, France
June 3 - Primavera Sound Festival in Barcelona, Spain
June 17 - Secret Solstice in Reyjkavik, Iceland
July 2 - OpenAir St. Gallen in St. Gallen, Switzerland
July 8 - NOS Alive Festival in Lisbon, Portugal
July 26 and 27 - Madison Square Garden in New York, NY
July 29, 30 and 31 - Osheaga Music and Arts Festival in Montreal, Québec
Aug. 4 and 8 - Shrine Auditorium in Los Angeles, CA
Aug. 20 - Summer Sonic Festival in Osaka, Japan
Aug. 21 - Summer Sonic Festival in Tokyo, Japan
Sept. 11 - Lollapalooza in Berlin, Germany
Oct. 3 and 4 - Palacio de los Deportes in Mexico City, Mexico