Say Hello to the Pineberry, the White Strawberry That Tastes Like a Pineapple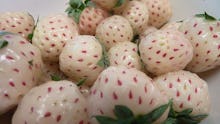 Emmbean/Wikimedia Commons
Is it a strawberry that looks like a pineapple? 
Or a pineapple that looks like a strawberry? 
Fruit lovers, meet your new best friend: the pineberry. 
This miraculous fruit is a color-inverted mini strawberry that tastes like a pineapple.
Most modern strawberries are actually a combination of scarlets, the original North American strawberry, and the Chilean white strawberry. But the pineberry hasn't been as popular as its crimson friend, and was on the verge of extinction a decade ago.
Who do we have to thank for preserving this epic creation? The Dutch.
It was officially reintroduced as the pineberry on April 1, 2010, in the United Kingdom. At first, people thought it was an April Fool's prank.
It seemed to good to be true. 
But it was not. The pineberries were real and here to stay. They're only available between May and September in limited quantities. 
Do they taste good? Maybe not, according to food critics. The Guardian and Observer food blog Word of Mouth's review of the "Alice in Wonderland-style fruit" is a bit disappointing: "It tastes like water. With sweetener in it. It's disgusting."
But don't take their word for it — try for yourself. 
Read more: This Is How Sliced Meat Completely Changed the Human Body (And Gave Us Hip-Hop, Too)
Correction: March 14, 2016