This New Airbnb Feature Means You'll Have to Fight for Your Right to Party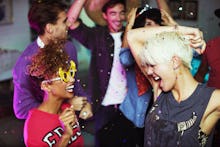 Chillin' at the Holiday Inn has become a thing of the past ever since vacationers discovered the bacchanalian joys of Airbnb rentals. But not everyone's down to party.
New Year's Eve brought a slew of dubious press to the home-sharing platform, from the London woman who came home to a trashed apartment, to the drug-fueled orgy that went down in a Montreal rental. Since then, Airbnb has been forced to reconsider its existing "party policy," in which renters establish their own personal guidelines.
On Monday, the company announced a new online comment feature that will allow neighbors to issue complaints, which Airbnb's customer support team will address and take action as needed.
The questionable antics of both Airbnb renters and rentees have earned the company the chagrin of many major cities. In 2014, New York's 311 hotline fielded 1,150 complaints about neighbors running "illegal hotels" — renting spaces for fewer than 30 days while the tenant on the lease is absent.
"One of the most important issues facing the sharing economy is how the people choosing to take part in it co-exist with those that aren't," the head of Airbnb Japan Yasuyuki Tanabe said at a government panel, according to Bloomberg.
So next time you want to throw a TV out the window or, say, light a couch on fire, do it in the comfort of your own home.