Illinois Primary 2016: Full Results for Democratic and Republican Races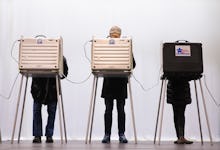 Illinois voters took to the polls on Tuesday for their opportunity to vote in the 2016 presidential election, with Republican frontrunner Donald Trump leading Sen. Ted Cruz, and Sen. Bernie Sanders with a slight advantage over former Secretary of State Hillary Clinton, in CBS News polls.
Trump held a strong lead coming into primary day in the Prairie State, holding a 38% to 34% lead over Sen. Ted Cruz, with Marco Rubio and John Kasich bringing up the rear. On the Democratic side, Bernie Sanders entered into primary day with a thin two-point lead in Illinois, polling at 48% to Clinton's 46%. This follows Sanders' historic showing in Michigan last week.
Illinois polls are open until 8 p.m. Eastern.
This post will be continually updated with the latest vote tallies, per the Associated Press. 
Democrats
At 12:27 a.m. Wednesday, the AP projected Clinton would win the Democratic primary.
Precincts reporting: 99%
Clinton: 50.4%, 1,002,832 votes
Sanders: 48.7%, 968,227 votes
Republicans
At 9:54 p.m. Eastern, the AP projected Trump as the winner of the Illinois primary.
Precincts reporting: 99%
Trump: 38.8%, 548,528 votes
Cruz: 30.3%, 428,363 votes
Kasich: 19.7%, 278,244 votes
Rubio: 8.5%, 122,206 votes