'New York Post' Takedown of Jaden and Willow Smith Calls Teens "Brainless" and "Entitled"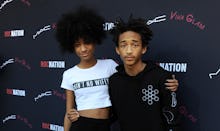 The New York Post appears to believe that Will Smith and his wife, Jada Pinkett Smith, "raised some pretty terrible kids." Or at least New York Post critic Kyle Smith seems to think so in his opinion piece, titled "Any reasonable parent would be ashamed of Will Smith's kids," in which he calls into question the parenting skills of the Smiths, for raising two "spoiled, nuclear narcissists."
Read more: Shirtless Jaden Smith Is Your New Gender Fluid Bae
The title of the piece seems to imply that a "reasonable parent" is one that subscribes to traditional parenting roles, or that there is something inherently wrong with the way the Smiths have decided to raise their children, despite the fact that the two siblings have found success in their own endeavors (granted, having famous parents certainly may have helped). Jaden Smith was announced as the new face of the Louis Vuitton's spring and summer collections in January — and in December 2015, Willow Smith released her debut album, Ardipithecus. 
"We don't know for sure that Will and Jada Pinkett Smith are the most horrible parents on Earth," Kyle Smith wrote in the scathing critique of the Smith siblings. "But the case for that seems strong when you consider their überentitled, brainless, self-adoring, twaddle-spewing little munchkins." Overlooking the fact that the Smith siblings are not even close to the worst examples of celebrity offspring out there, Jaden and Willow Smith have both made their own unique stamp on the world, in a way that is only harmful to the status quo. 
Born into Hollywood royalty, the two siblings have frequently defied gender norms, set new standards in the fashion industry and have accomplished much for a pair of teenagers. "I look at Jaden and I see how he's part of a historical legacy of black men, especially in entertainment, who've pushed the boundaries, sartorially and culturally, of what it means to be a man in American society," Scott Poulson-Bryant, author of Hung: A Meditation on the Measure of Black Men in America, told Mic in June. 
"These kids are nuclear narcissists," Smith continues. "The elder Smiths may have boycotted the Oscars because they weren't nominated, but they boycotted parenting because they couldn't be bothered to raise kids with any grounding in reality." 
Despite Kyle Smith's commentary on the inner workings of the Smith household, Will and Jada Smith appear to be happy with their parenting choices. "I'm not a conventional parent, which I take a lot of pride in," Jada Pinkett Smith told Us Weekly. "I don't just sit with Willow and go, 'Hey, this is what Mommy thinks. Let me just bring in a little reality to validate what Mommy's been talking to you about.'"