What Are the MTV Woodie Awards? Viewing Info, This Year's Host and Who's Performing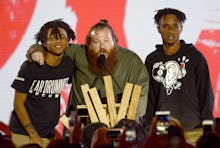 Each year, MTV honors new and emerging artists at the annual Woodie Awards — the hipper, more alt cousin of MTV's Video Music Awards. This year's Woodie Awards will take place in Austin, Texas, and will be broadcast live from SXSW on Wednesday, March 16, at 9 p.m. Eastern.
Read more: Kendrick Lamar Got Unforgivably Snubbed Again at the 2016 Grammy Awards
In past years, the Woodie Awards aired on MTVU and were meant to represent the musical tastes of college-aged viewers, but this year the hour-long show will air on MTV. The 2016 Woodie Awards will be hosted by rapper A$AP Rocky, and performers will include Chvrches, Kehlani, Travis Scott and A$AP Ferg.
Past Woodie Awards presenters and performers include Fall Out Boy, Big Sean, Jack Antonoff and Marina & the Diamonds. MTV promised the 2016 Woodie Awards will be a night to remember: "Just like in years past, you can expect a stellar class of artists currently breaking through the world of music with their original sounds and standout performances."