An Artist Drew Donald Trump With a Micropenis — and It May Get Her Banned From Facebook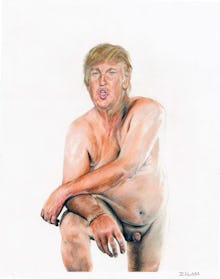 Illma Gore
Self-described "gender-fluid futurist" Illma Gore is indefinitely banned from Facebook after posting an NSFW sketch she drew of a naked Donald Trump bearing a micropenis and a next-level dad bod. 
Read more: Donald Trump Sent a Thinly Veiled Threat to Bernie Sanders in This Viral Tweet
"My last suspension (three days) stated that I could face being banned permanently for the image," Gore told Hyperallergic. "Since then I have not been able to log on. I was suspended about six times consecutively before this point."
The artwork, titled "Make America Great Again" after Trump's presidential campaign slogan, was inspired by the candidate's comments defending his manhood at a recent GOP debate to emphasize the "significance we place on our physical selves." But Facebook considers it a violation of its nudity policy, and eBay banned it as well. 
"One should not feel emasculated by their penis size or vagina, as it does not define who you are," a description of the sketch on Gore's website reads. "Your genitals do not define your gender, your power, or your status."
"Simply put, you can be a massive prick, despite what is in your pants."
When Gore tried selling the sketch on eBay, the e-commerce site removed it for violating its nudity terms as well. But its terms and conditions writeup says "frontal nudity is allowed in art categories when the item is considered fine art, such as Michelangelo's David, vintage pin-up art, Renaissance-style paintings and nude cherubs."
Gore responded to Facebook and eBay's bans by uploading a high-res version of the image on her site as a free download. "Who decides this hierarchy of 'fine art?'" Gore asked Hyperallergic. 
"And why is this value judgement being placed on artworks for sale in an online market place or social media (you can find Michelangelo's David pretty quickly on a Facebook search)?" she continued. "More importantly, why other than an attempt to try and censor the image, should eBay or Facebook ever prevent me or any other contemporary artist from selling or posting their work?"
In the meantime, Gore said she's donating $100 to Vermont Sen. Bernie Sanders' campaign every time eBay removes the sketch.