This 30 Under 30 List of the "Future of the Music Biz" Is Whiter Than the Oscars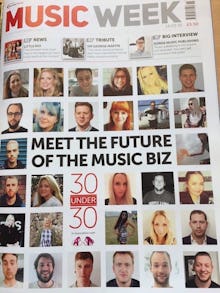 On Monday, British trade publication Music Week released its "30 under 30" list, inviting readers to "meet the future of the music biz." After a quick scan of the cover, one thing about the people featured stood out to some readers — they were overwhelmingly white.
Though no hashtag has yet arisen calling attention to the lack of representation for people of color à la #OscarsSoWhite, Twitter users wasted no time sounding off on the list's demographics:
Music Week editor Mark Sutherland addressed the diversity in a column Monday afternoon. "If you haven't read the full feature, you may have missed the presence of two executives with non-white backgrounds on the list," he wrote. Sutherland also noted that, for the first time, the list is made up equally of men and women.
While the publication's staff recognizes that gender equality isn't the be-all and end-all of diversity, Sutherland blamed an industry that itself fails to give people of color their due.
"The lack of diversity on the list may reflect a wider lack of diversity in the industry itself," wrote Sutherland. "It certainly reflects a relative lack of diversity in the nominations we received."
"Nope," said Twitter:
In the future, Sutherland promised, the magazine would consider revising the process to include more "research and outreach."
Here's hoping Music Week's efforts produce some notable changes in the future. Because its previous history could use more than a few revisions.